Sometimes Chinese manufacturers throw a mysterious, unlabelled, IC into their designs so we can spend a few hours trying to figure out what they are and what they do. It's such fun! I've been playing with one of those this afternoon, trying to answer those questions but also trying to understand why! Why is that chip there? Why did someone decided she needed that chip there?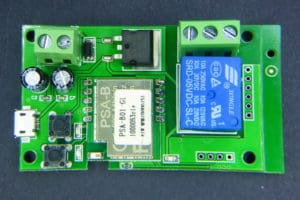 Some weeks ago a user of ESPurna asked me if the firmware supported Itead's 1CH self-lock/inching board. My answer was "why not" since all Itead's products are very much alike. Wrong. This one is different. Let me summarise why:
There is no entry in the Itead's wiki for the device
There are no schematics, drawings, in the store
It uses (and brings out) a Songle SRD-05VDC-SL-C SPDT relay (there is only one other product using this relay in Itead Studio store)
It uses Itead Studio PSA-B module
It does not have an AC/DC transformer
My module supports 12VDC connection
It features a second button exclusively for the pulsing feature
There is no header to program the PSA-B module
All these things together kept me wondering… is this an Itead's product?